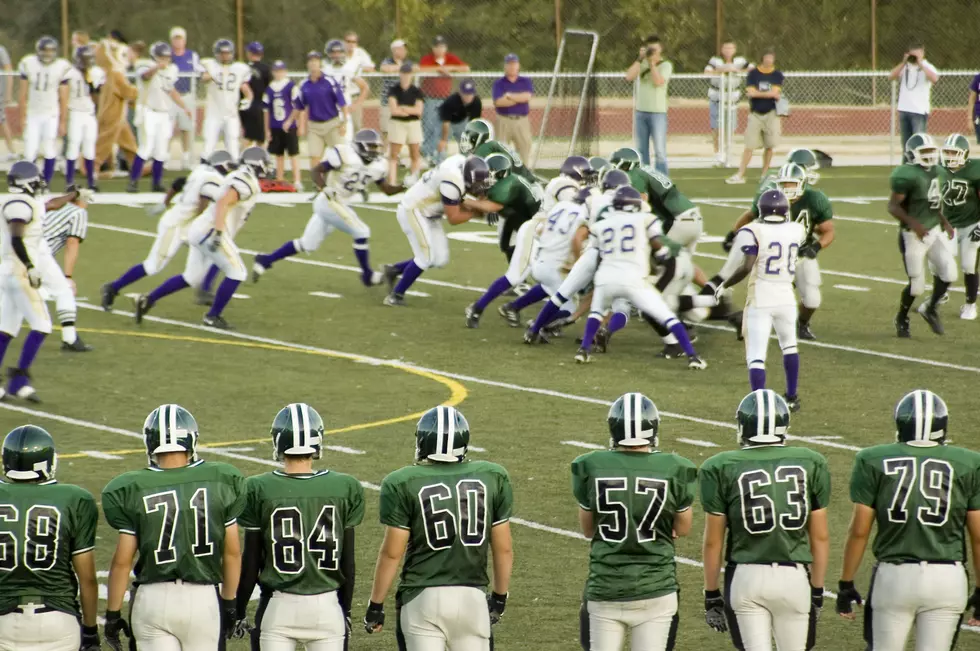 Lansing-Area H.S. Football Top 10 Poll (After Regional Finals)
eurobanks/Getty Images
We are now in the final stages of the Michigan High School Football tournament.  Four teams remain in each of the eight 11-Player classes.  And the finals of the 8-Player Division 1 & 2 tournament is this coming Saturday at the Superior Dome in Marquette.
And we have four area teams left in the state semifinals.  They are:
East Lansing (10-2) - Division 2
Mason (12-0) - Division 3
Portland (12-0) - Division 4
& in a surprise to many...  Ovid-Elsie (8-4) - Division 6
The four teams above won regional championships with victories last weekend.  And all four are one win away from playing for a state championship on Thanksgiving weekend at Ford Field.
We lost Haslett and Pewamo-Westphalia last week in the regional finals.  Haslett fell to Goodrich 24-17 on the road.  And P-W lost a heartbreaker, 28-27, to North Muskegon.  A missed extra point was the difference in that game.
All of this weekend's upcoming state semis are this Saturday afternoon at 1pm.  All winners on Saturday advance to Ford Field in Detroit for the state title games on November 25-26.
Here are the matchups and sites for the games involving the four area teams still playing:
DIVISION 2
East Lansing (10-2) vs. Muskegon (10-2) @ Greenville HS's Legacy Field
DIVISION 3
Mason (12-0) vs. Detroit Martin Luther King (7-5) @ Chelsea HS
DIVISION 4
Portland (12-0) vs. Grand Rapids South Christian (9-3) @ Ada-Forest Hills Eastern's Hawk Stadium
DIVISION 6
Ovid-Elsie (8-4) vs. Almont (11-1) @ Grand Blanc HS
For a look at all of the semifinal matchups, click here.
We will have coverage of the East Lansing-Muskegon game this Saturday from Greenville HS's Legacy Field.  Pregame coverage on WVFN and the Lansing Sports Network begins at 12:00pm, with kickoff at 1:00pm.  Brock Palmbos and Erik "Doc" Love will have the call from Greenville HS.
Ok, on with this week's rankings:
Lansing-Area H.S. Football Top 10 Poll - (After Week 12)